Circular Economy is a production and consumption model that aims to increase the efficiency of raw materials, through the use of materials for a longer period of time, while minimizing the use of resources used in the production process.
In practice, Circular Economy implies the reduction of waste to the minimum possible level, aiming to preserve the value of products, materials and resources for as long as possible, returning them to the product cycle until the end of their use. Thus, when a product reaches the end of its life, its construction materials are retained within the economy to be used again and again, creating added value to the product.
Circular Economy comes in response to the ambition for sustainable development, which includes exchanging, renting, reusing, repairing, refurbishing and recycling existing materials and products to the greatest extent possible. In this way, what was previously considered as "waste" can now be turned into raw material, effectively contributing to extending the life cycle of products and achieving sustainable development (1).
Waste Management Hierarchy
The
EU Waste Framework Directive
aims to prevent and reduce the negative impacts of waste generation and management, as well as to improve resource efficiency, in order to protect the environment and human health (
3
). The Waste Framework Directive lays down some basic waste management principles. It requires that waste should be managed:
without endangering human health and harming the environment,
without risk to water, air, soil, plants or animals,
without causing a nuisance through noise or odours, and
without adversely affecting the countryside or places of special interest
In addition, it explains when waste ceases to be waste and becomes a secondary raw material, and how to distinguish between waste and by-products. The Directive also introduces the "Polluter Pays Principle" and the "Extended Producer Responsibility" (3).
The foundation of EU waste management, is the five-step waste management hierarchy, established in the Waste Framework Directive. In this hierarchy, an order of preference for managing and disposing of waste is established, while, basic concepts and definitions related to waste management, including definitions of waste, recycling and recovery, are also defined.
The Waste Management Hierarchy is a conceptual framework designed to guide and rank waste management decisions at both the individual and organizational level. In simple words, it is a simple ranking system used to determine which option of waste management is best for the environment. More precisely, it gives top priority to waste prevention, followed by re-use, recycling (including composting), and energy recovery, while waste disposal in landfill sites is the least preferred option (4).

As part of the EU waste legislation, specific targets are also set to increase the recycling of specific waste streams, such as electronic equipment, cars, batteries, construction, demolition, municipal and packaging waste, as well as to reduce the landfilling of bio-degradable waste (3).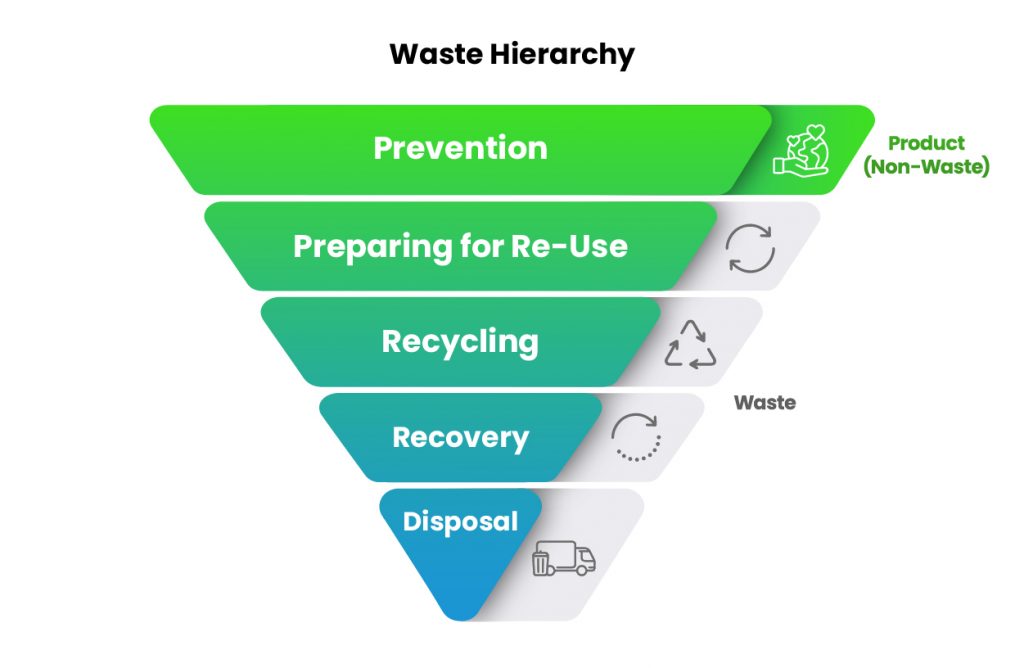 Bio-waste are biodegradable plant or animal waste or biodegradable waste consisting of fungoid material, such as:
garden and park waste;
landscape management waste;
food and kitchen waste from households, restaurants, caterers and retail premises and comparable waste from food processing plants; and
waste from other areas of origin comparable to the [above] waste, by type, nature or material characteristics (6)
Hazardous household waste (HHW) may be defined as waste that could potentially increase the hazardous properties of municipal solid waste when landfilled, incinerated or composted.
The term "hazardous household waste" is not clearly defined in EU legislation, while there is no specific regulation specifying the management of such waste, with the exception of WEEE and batteries.
According to the latest EU guidelines (2020), HHW classification includes:
Household chemicals (household cleaning and personal care products, paints, varnishes, ink and glues, household and garden pesticides, photochemicals, packaging)
Domestic healthcare waste (pharmaceutical products, sharps and other potentially infectious waste)
Construction and demolition waste (asbestos waste, treated wood , coal tar and tarred products)
Automotive maintenance waste (oil filters and contaminated absorbing materials, automotive products, surface polish, anti-freeze fluids)
Mercury-containing waste (other than WEEE) (7).
Waste from Electrical and Electronic Equipment (WEEE) includes a large range of devices such as computers, fridges and mobile phones at the end of their life. This type of waste contains a complex mixture of materials, some of which are hazardous. These can cause major environmental as well as health problems, if the discarded devices are not managed properly (8).
Agrowaste or Agricultural Waste is unwanted or unsalable materials produced wholly from agricultural operations directly related to the growing of crops or raising of animals for the primary purpose of making a profit or for a livelihood (9).
Some examples of agricultural waste include:
Grape Vines
Fruit Bearing Trees
Vegetables
Date Palm Fronds
Food waste is any food, and inedible parts of food, removed from the food supply chain to be recovered or disposed (including composted, crops ploughed in/not harvested, anaerobic digestion, bio-energy production, co-generation, incineration, disposal to sewer, landfill or discarded to sea) (10).
Recyclable waste consists of recycling materials that include paper, cardboard, metal cans and plastic, which can then be put into one waste stream and be processed efficiently & effectively.
Marine debris (or marine litter) is defined as any solid material discarded, disposed of or abandoned in the marine and coastal environment.
Common items of marine debris include: plastic bottles, fishing nets, food packaging, crates, cigarette butts, gloves, buckets, rope, fishing gear, packing materials, light globes, plastic bags (11)