Introduction
Marine Litter is one of the most serious environmental problems the seas and coastal areas are facing. This is a global problem, which knows no borders and can originate from a variety of different sources, mainly land-based, anthropogenic activities. In the Mediterranean Sea, the problem of marine litter began to be noticed from the early 1970s.
What is marine litter?
"Marine litter is defined as any manufactured or processed solid material that have been discarded, deposited or abandoned in the marine and coastal environment and which is characterized by a long retention time in the marine/coastal environment. Marine litter consists of objects that have been manufactured or used by humans and have been intentionally or unintentionally left in seas and shores. These include materials that have been transported to the marine environment from land via rivers, sewers or winds.
The main types of marine litter are listed below:
Plastics: bottles, bags, lids, caps, fishing lines, synthetic ropes, fishing nets, cable ties, strapping bands, containers, buckets, diapers, food packaging, soft drink packaging, straws, stirrers, tarpaulins, tobacco packs and lighters, glasses, plates, cutlery, etc.
Metals: aluminum cans (soft drinks, beers, etc.), aluminum can caps, barrels, sprays/aerosols, cans, electrical appliances, car parts, chipped pieces, cables, etc.
Rubber: boots, buoys, gloves, car tires, etc.
Glass: containers, bottles, lamps, pieces, etc.
Natural products: wood (processed), rope, paper and cardboard of all kinds, pallets (wooden), etc.
Miscellaneous: clothing, rags, shoes, etc.
What are the categories of marine litter?
"Marine litter" is divided into three categories:
Beach Marine Litter
Benthic Marine Litter and
Floating Marine Litter
The main sources of marine litter are:
Land-based activities (waste dumping sites, rivers and estuaries, stormwater, floods, industrial discharges, sewage networks, raw urban sewage, tourism activity), from which approximately 80% of marine litter originates.
Maritime activities (shipping, navigation, marine transport, pleasure boats, fishing, aquaculture, offshore mining and extraction of natural resources (oil rigs), illegal marine dumping, discarding of fishing gear), from which approximately the remaining 20% of marine litter originates.
What is the purpose of Marine Garbage Collection Stations?
The stations that will be implemented as part of the LIFE IP CYzero WASTE Project will be implemented in the Golden Coast fishing shelter, in Paralini and in Zygi, in places where the fishing communities are mainly active.
They will be equipped with bins of different recycling streams and the corresponding marking, helping citizens and fishermen to place coastal and marine litter.
Afterwards, the Local Government Authorities, in collaboration with the Department of Environment, will take care of recording and channeling the waste to recycling or upcycling units.
The marine litter collection stations are a reference point for achieving our goals as they allow the establishment of trusting relationships with fishermen and local communities, help to promote the recycling and reuse of marine litter, allow the export and collection of numerical data.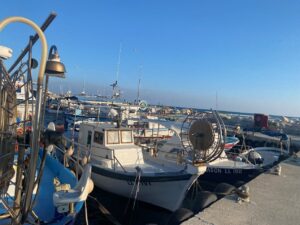 Zygi Fishing Shelter